This is the last fall I will be living in Nova Scotia and one of the "must sees" of being here is visiting Cape Breton during the most colourful time of the year which is exactly what I did this past week. What treasures I have in my memory bank after experiencing the incredible hospitality and beauty of this gorgeous part of the province. We stayed in a Bed and Breakfast, and smaller motels - a fairly inexpensive way to travel. We visited museums, beaches, listened to Celtic Music, enjoyed local cuisine, and went whale watching. If you are ever in the Maritime Provinces during the fall be sure to take in the sights, sounds, tastes, and hospitality of Cape Breton, you will not regret it.

A local Acadian restaurant has Celtic Music during the lunchtime rush.
St. Pierre Church in Cheticamp
A young moose checking out the tourists.
Lone Sheiling historic site on the Cabot Trail
Mary Anne Falls
White Point fishing village
Main Street Restaurant and Bakery, Ingonish - incredible food.
Usge Ban Falls, Cabot Trail
Ingonish Whale Watching Tours
This little lobster lived to see another day - too tiny to keep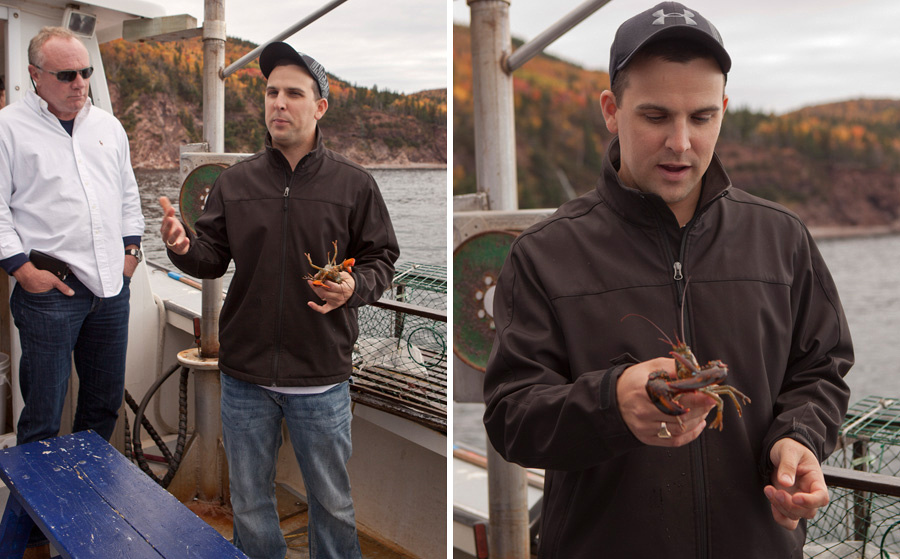 Minke Whale feeding close to the harbour
Our Captain Chester Whitty
Glass Artisans Studio and Gallery
The Silver Dart in the Alexander Graham Bell Museum in Baddeck